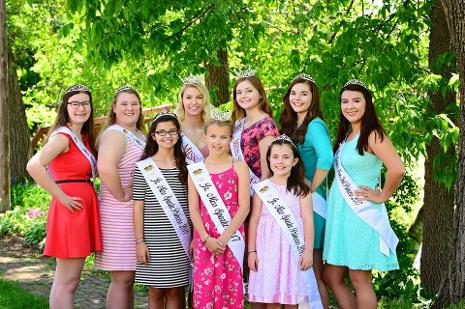 Our 2017 Royalty!
Miss Sparta Erica Ebert • 1st Princess Delaney Schaller • 2nd Princess Marissa Fletcher
Miss Sparta's 1st Outstanding Teen Emalee Schwarz • 1st Princess Kristen Clark • 2nd Princess Tailor Fratzke
Jr. Miss Sparta Addison Schroeder • Princesses Phoebe Schwarz and Taylor Silvernail
Lady Butterfest Amy Bernath and Festmaster Dave Kuderer (not pictured)
Join us as we crown our new royalty!
Our 2017 pageants are right around the corner! Below are videos introducing you to our Jr. Miss, Outstanding Teen and Miss Sparta contestants. We hope you will join us for the pageant on June 3rd, with Jr. Miss at 1pm and Miss/Teen at 7pm! Tickets are $10/show for adults and $6/show for children. Contact a contestant if you're interested in attending BOTH shows as they have access to special combo tickets that save $5 (per adult)! :)
Thanks for attending our Info Meeting! It was so nice to meet you!
It was so nice to meet many potential contestants at BOTH of our informational meetings! The application period is open until March 21st at 11:59pm. Please email MissSparta@live.com if you have any questions. We look forward to seeing everyone at the first practice!
Thank you for your support!
We are so grateful for the support of the Sparta community (and beyond!) with our Operation Honor Our Troops fundraiser! We have sold over 600 shirts to benefit the Sparta American Legion, VFW, and Monroe County Veterans Service Office! Thank you to everyone who ordered for their support!
Excuse our mess...
Our site is currently undergoing changes. Please bear with us while we get ready for an exciting 2017!
Miss Sparta Gives Back
Did you know that the Miss Sparta Pageant and Sparta Butterfest give back thousands of dollars and volunteer many hours with local organizations each year? Check out the video below to see some of the amazing things our royalty are doing in the Sparta community and beyond.
Here Comes Miss Sparta's Outstanding Teen!
Over 14 MILLION Raised So Far!
The Miss America Organization and Children's Miracle Network Hospitals share a commitment to raise awareness and funds for Children's Miracle Network Hospitals across the country as well as the Miss America Scholarship Program.
Have you heard of JotForm? We're obsessed!
We are so excited to share that we have completely upgraded our application process using JotForm! We love the way that their accounts are setup and that they allow ALL users to utilize all of their amazing tools! We have tried SurveyMonkey, Wufoo, Fluidsurveys, and more, but no one offers these amazing features to all users. So glad that we found JotForm and can't wait to continue working with their amazing service!
Congratulations to our 2016 Sparta Royalty!
Miss Sparta Christina
•

Princess/Miss Congeniality Delaney Schaller
Little Miss Sparta Maggie
• L

ittle Miss Princesses Jocelyn and Kara
Jr. Miss Sparta Morgann
•

Jr. Miss Princesses Madison and Lily