Posted 5/7/16
Practices are going great!
Thank you to all of the contestants for a great first few practices! The next practice will be May 21, but there will be a Happy Ad Drop-off on May 14th, at the Sparta High School custodian's lot, from 10:30-11am. This will be the last chance to turn in happy ads so please make sure you either order online or stop by! :)
Posted 4/2/16
Did you miss our 2016 Informational Meeting? Don't worry - the information is available on our site as well. All applications are due on April 15th. Note that it is important that you read through the general information and contract prior to submitting the application. Click here for more of the information!
Posted 2/10/16
Informational Meetings are coming up! :)
Our 2016 Informational Meetings have been scheduled for Saturday, April 2, 2016. The Little/Jr. Miss (gr 1-5) Informational Meeting will take place at 9:30am and the Miss Sparta (age 16-20) will take place at 10:30am. These meetings are very important for you to attend to get all of the information on this year's competitions. We look forward to meeting all of our prospective contestants! :)
Posted 12/20/15
Happy New Year!
It is hard to believe that the New Year is right around the corner! Our royalty have really enjoyed the first half of their year since being crowned in June. We loved participating in all of the parades this summer, and a few favorites were Oktoberfest and Applefest. This fall we attended the Cashton Fall Festival pageant where our Little Miss Royalty loved bonding with some of the outgoing and incoming ladies. In August we especially enjoyed volunteering at the Sparta Area Cancer Support walk as part of the Orrin Peterson team (in honor of our Lady Butterfest Cheryl Isensee) through helping at a cruise night at Rudy's and helping escort survivors onto the field at the Cancer Walk. We also attended the Miss Goodview pageant and were thrilled when our own former Miss Sparta Zoe Roou was crowned as the new 2015 Miss La Crosse/Oktoberfest! We couldn't have been more proud!
Throughout September and into October, the royal family staffed the Snack Shack for all of the Sparta home football games (BIG thank you to Kim Roou for coordinating this fundraiser!). In October, the royal family planned our third annual Zombie 3K run, which raised money for our organization as well as Children's Miracle Network Hospitals. They also participated in Sparta's Drive for your School event to benefit the Sparta Public Education Foundation (this fundraiser raised $7000 for the foundation!), as well as participating in Save Second Base fundraiser for breast cancer, and Sparta's Fall Fest. Later in October, the girls volunteered at Sparta Boys and Girls Club's Trick or Treat Street safe trick or treating event. In November, the royal family had a little break from events, but at the end of the month, the girls rang bells at the Sparta Wal Mart to raise money of the Salvation Army. In December, we had the Sparta Holiday Parade in which the royalty was busy collecting food for the Sparta Food Pantry and handing out glow sticks along the route. Just after the start of the year we are looking forward to celebrating the holidays with our own party, and beginning to plan the 2016 pageants!
Posted 10/27/15
Help us bring Rachel's Challenge
to Sparta
Alex was excited to announce today that she will be working with Rachel's Challenge throughout the year in hopes to bring the program to Sparta.
The program teaches about positivity, kindness and compassion through the writings of Rachel Joy Scott, the first victim of the Columbine shooting on April 20, 1999.
To help bring Rachel's Challenge to Sparta, you can donate below. All funds raised will go towards Rachel's Challenge.
Posted 7/17/15
Off to a busy start!
The girls have been off to a busy start, and are excited for our upcoming parades and events!
The summer started off with Butterfest where we spent five (yes, five, including our Italian Dinner) days testing and loved all of the events, rides, and most importantly people that we got to meet. The Sunday of Butterfest weekend Miss Sparta 2014 Zoe Roou left for Miss Wisconsin, where many of us would join her later in the week.
Alex enjoyed spending time at Miss Wisconsin and learning the ropes, and we were all thrilled that Zoe walked away with a $250 Health Sciences Scholarship, $1000 Community Service Scholarship, $500 non-finalist Interview award, and $300 non-finalist scholarship, bringing her total through the Miss Sparta organization to $4150!
Following Miss Wisconsin, we had the 4th of July parade in Tomah, our first out-of-town parade, and we were all decked out in red, white, and blue to celebrate the holiday!
On July 9th, Alex, Christina and Emily had their official pictures taken at The Studio before coming back to Sparta to volunteer at the Museum's Pig Roast fundraiser, where they met up with our other royalty members. All of the royalty enjoyed volunteering, from taking tickets, to working the ice cream dessert bar (yummy!) and even drawing the winning raffle tickets.
Wednesday, July 15th, we were off to Black River Falls where the ladies judged the Little Miss Black River Falls pageant. They really enjoyed interviewing each of the contestants and had a hard time making a decision.
It's been a busy few weeks but we are excited for all of our upcoming events, including the Black River Falls Karner Blue Butterfly parade this weekend, and the Houston Hoedown next weekend! Here we go!

Posted 6/15/15
Congratulations to our new 2015 Sparta Royalty!!!!
We are so excited to announce our new 2015 Royalty, as pictured to the right.
Front Row:
Little Miss Sparta Princess Elizabeth
Little Miss Sparta Lily
Little Miss Sparta Princess Bridget
Jr. Miss Sparta Princess Jadeyn
Jr. Miss Sparta Jalena
Jr. Miss Sparta Princess Shannon
Back Row:
1st Princess Christina Weaver
Lady Butterfest Cheryl Isensee
Miss Sparta Alex Lira
2nd Princess Emily Phillips
Congratulations ladies, we can't wait to get started with you!:)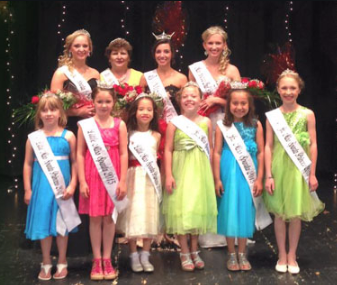 Posted 6/1/15
Our 2015 Pageants are this weekend and we CAN'T WAIT!
We have five contestants competing for Miss Sparta, 15 Jr. Miss contestants, and 10 Little Miss Contestants for a total of 30 contestants this year!
We are so proud of the progress that all of the girls have made and can't wait to find out who the new royalty will be!
Join us Saturday, June 6th, at 1pm for Little/Jr Miss and 7pm for the Miss Sparta Pageant! Tickets are $10/show.
Happy Ads are due May 16!
Be sure to purchase a Happy Ad for your favorite contestant by THIS SATURDAY! This helps offset the costs of the pageant and is the only way to wish your contestant good luck right before they hit the stage! Click here to order!
Meet our 2015 Contestants!
Miss Sparta - 5 Contestants
Alexandria
Christina
Delaney
Emily
Katrina
Jr. Miss - 16 Contestants
Alyssa
Brynlee
Caitlyn
Caitlyn
Elena
Ellsey
Emma
Jadeyn
Jalena
Jenna
Jillian
Kaianlin
Lily
Morgann
Shannon
Zoey
Little Miss - 12 Contestants
Alexia
Allie
Audriana
Bridget
Colleen
Elexis
Elizabeth
Kendall
Lily
Rebecca
Samantha
Violet
Posted 1/22/15
Informational Meeting Date Set! See you March 14th!
ITS OFFICIAL! Our Info Meeting will take place on March 14th at The Colonial in Sparta. The Meeting for Little/Jr. Miss (gr. 1-5) contestants and parents is at 9am, and the meeting for Miss Sparta (age 16-20 on June 6th) contestants is at 10am.
Get a head start on our informational meeting survey and skip the line when you arrive at the meeting! Here are the links:
NOTE: These surveys are NOT the pageant application. Information provided via these surveys will only be used so that we can email you documents for the pageant itself.
Posted 12/7/14
Wrapping up the Holiday Season, literally!
On Dec. 20-21 our royalty will be wrapping gifts at Valley View Mall in Onalaska. This will be our final event before the New Year and we're excited to see so many happy holiday shoppers. Stop by Sears Court (near the Food Court) to see us and bring your presents! We will be happy to wrap them :)
Posted 12/7/14
Fall and Winter Events!
It has been a busy fall for the royalty!
In September, we were thrilled to win the "Festmaster's Award" at the La Crosse Oktoberfest Maple Leaf Parade! This was a first for our royalty, and only one award for royalty is given each year at the parade. It was quite the honor and the royal family was very excited to celebrate and dance throughout the parade, and of course take plenty of pictures with the banner that Oktoberfest's walkers held in front of our float.

We also attended the Cranfest Parade in Warrens where we were excited to see some of our Miss Wisconsin sisters, and tons of other royalty all gathered together for a huge group picture, probably the biggest one of the season!
In mid-October, we hosted our 2nd Annual Zombie 3k and the royalty had a blast getting all dressed up to chase the runners. The event was a huge success, and we even raffled off baskets which included everything from jewelry to tickets to Disney World and more! Visit Zombie3k.com for more information on the run.
Later in October the ladies helped out at Trick or Treat Street hosted by the Sparta Boys and Girls Club, which serves as a safe and fun alternative (or additional) trick or treating! We loved seeing all of the creative costumes and the smiles on the kids' faces were priceless.
In November, we attended the Miss River City Pageant and were excited to welcome Jordenne (Former Miss Seven Rivers OT and Onalaska OT) and Christa (Former Miss La Crosse Oktoberfest) back to the Westside family. The contestants were all wonderful and our own Zoe Roou performed "Stand" by Rascal Flatts.


In early December, we had the Sparta Holiday Parade and the ladies collected food for the food pantry, and handed out glow sticks to the children (thank you to the Chamber of Commerce for providing these!) The parade, and lighting in the park, was a blast and we were thankful for the "warm" weather (Warm for December anyway!)
On Dec. 7, Zoe attended the Making Dreams Come True event at The Colonial, and our younger royalty helped out at the AS/AP Cat Shelter Chili Dinner fundraiser.
Posted 9/8/14
Busy, busy!
The royalty have been busy with lots of parades and pageants lately! Here are just a few:
Goodview Parade
Houston Hoedown Parade
Black River Falls Karner Blue Butterfly Festival Parade
Holmen Kornfest Parade
SACS Walk
Steppin' Out in Pink
Miss Goodview Pageant
Bangor Fun Daze
Little Miss/Jr/Miss Cashton Pageant
Cashton Fall Festival Parade
Miss La Crosse Oktoberfest
Team Royalty takes on Tomah's Relay for Life, Raises over $800
Posted 7/18/14
Our 2014 Royalty has already been busy supporting Miss Sparta 2014 Zoe Roou's platform "Cancer is Everyone's Battle." The 2014 Royalty participated in Tomah's Relay for Life for the American Cancer Society, and raised over $800 for the walk, which in total raised over $30,000.
The ladies had a wonderful time walking, singing karaoke, and even setting up their own photo booth!
Next up is Sparta's "Sparta Area Cancer Support Walk" which will be held on August 15th at the Sparta Football Field. To donate to Team Sparta Royalty, please click here.
Thank you to everyone who has donated to help us not only support Zoe's platform, but also to do our part to end cancer.
Donate to the Sparta Area Cancer Support (SACS) Walk
Click the link above to donate to our team for the Sparta Area Cancer Support (SACS) walk. SACS is a community organization that not only comes together once a year to honor survivors and the memory of those who have fallen to cancer, but also uses all funds raised at their annual walk to support local citizens in the Sparta area who are currently fighting cancer, as well as supporting research to end cancer.

Please help us support the fight to end cancer and Zoe's platform, "Cancer is Everyone's Battle" by donating to our Cancer Walk team!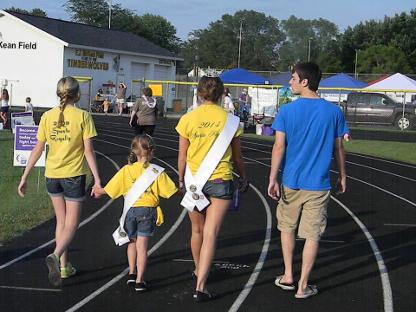 -------------- Please support Delainey Hayden --------------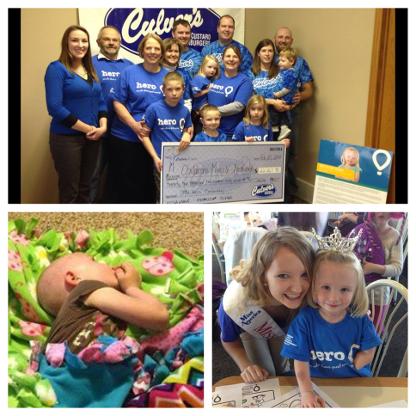 If you haven't yet heard the story of young Delainey Hayden of Sparta, WI, you haven't met the most inspirational young lady we've met.
In July 2013, Delainey became the Miss America Organization Western WI Titleholders Children's Miracle Network Hero, and we were so excited to meet an adorable little beauty who we'd get to spend a year with.
As just a baby, Delainey was diagnosed with synovial cell carcoma. Her family decided that, to avoid the long lasting effects of chemotherapy/radiation, the best option for Delainey's future was amputation of her arm where the cancer was. We were all inspired and enamored by this little girl, and ready to jump in to action to help raise money for CMNH. (to learn more about D's cancer and CMNH view her video to the left)

We quickly got busy at fundraising events at Culvers, helping to raise money for little D as everyone affectionately refers to her, and got to know her and her family more and more as the time went by. One thing is for sure, she can brighten a room! We also helped raise money for CMNH at our 2013 inaugural Zombie 3k fundraiser. Later in the year, Miss Sparta 2013 Autumn Freeman worked the phones at the CMNH Radiothon, and we even had a photo booth to raise money for CMNH at La Crosse's Family Fest.
In May, 2014 the titleholders and the Hayden family all attended the annual Emerald Ball, the last hoorah for the heroes, and an event to thank them and continue supporting CMNH. We were so delighted to hear that Delainey's family, who'd teamed up with Culvers throughout the year, had raised over $22,000 for Children's Miracle Network Hospitals!!

In late May, we received the news that we all hoped would never come. Our sweet little D was once again facing cancer, this time in her lungs. This sweet little three year old brought us to our knees and we were absolutely heartbroken. We knew we had to do something, and, while we had already planned to share little D's CMNH video and have her family attend the pageant as special guests, we wanted to do something more.
At the pageant, The Miss Sparta Organization, with assistance from Westside Wisconsin Titleholders, held a Miracle Minute in honor of little D, and were astounded to raise over $1200 in under a minute. The titleholders returned with tears in their eyes as we began to count the money and we were all amazed at the wonderful support the city of Sparta showed for this amazing little girl.
Since the pageant, we've continued to support little D. We are now selling her bracelets for $3, we've made tie blankets for her to use while she is at the hospital, and we recently sold custard at her fundraiser at the Sparta Aquatic Center.
In honor of Zoe's platform being cancer, and to honor our sweet little friend D, we are also participating in not only the Sparta Area Cancer Support Walk, but also the Tomah Relay for Life, which we have already raised over $500 for.
If you'd like to support little D, please click the "donate" button above and we will be sure that the money makes it to her family. Thank you for being a part of our story, and our hope to bring an end to cancer for Little D.
Welcoming Alysta to the Westside Family!
Posted July 15, 2014

On July 15, 2014, Zoe attended the 2014 Race to 100K Kickoff held at Gundersen's Integrated Center for Education, home to the Children's Miracle Network Hospitals Gundersen program. Here is her excerpt from CMNH's site:
Meet 2014-15 CMN Hospitals Hero ALYSTA KING! Alysta is 10 years old and loves to watch anything on the Food Network. Alysta was diagnosed with Burkitt's lymphoma (a form of cancer) and is now in remission. Alysta's Miracle Maker sponsor is the Family Dog Center & The Dawg Haus and her minor sponsor is the area local Miss America Organization titleholders

OWe were so excited to meet Alysta, and all of the other heroes, and welcome her to the Westside family! We can't wait to get to know her and her family throughout this year, and work with her to not only promote CMNH, but also to spread the word about Zoe's platform, cancer.
Having Alysta and Delainey as heroes these past two years really brings Zoe's platform home for our entire organization, and we are so excited to help Zoe continue supporting the fight against cancer to put an end to the struggles it brings for families all over the world, including the Haydens and the Kings.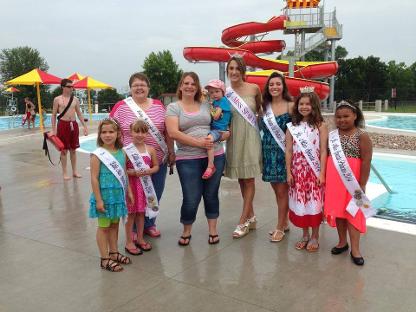 Fun Day at Delainey's Swim Party!
Posted July 12, 2014
Our royalty had a wonderful day at Delainey's fundraiser, selling Culver's custard and chatting with all of the wonderful and excited swimmers.
Pictured here, our girls got the chance to have a quick chat with the star of the day, our little Delainey! We love this little ball of sunshine and have truly enjoyed getting to know her family throughout the past year.
Message us if you'd like to purchase one of Delainey's "Hope Over Fear" bracelets - all proceeds go to the Hayden family!
Happy 4th of July!
Posted July 4, 2014
The Fourth of July was a fantastic parade for our 2014 royalty - and their first out-of-town parade! Decked out in red, white, and blue, the girls enjoyed riding through the streets of Tomah on the new float.
We hope everyone had a wonderful 4th! :)
Great Job at Miss Wisconsin, Autumn!
Posted June 22, 2014

The 2014 Miss Wisconsin Pageant took place on Saturday, June 21, 2014 at the Alberta-Kimball Auditorium in Oshkosh, Wisconsin. Representing Sparta at the competition was Miss Sparta 2013, Autumn Freeman, who competed in preliminaries on Wednesday and Thursday evening leading up to the Saturday final competition. On Saturday, Autumn was awarded the Miss America Community Service award, as well as the Health Sciences award, bringing her total scholarship wins from the competition to $1550. When added to the scholarships that she received at the local level, Autumn walks away from the Miss Sparta organization with $3450 in scholarships.
In the fall, Autumn will be traveling to the Walt Disney World Resort where she will take on the Disney College Program, before pursuing a degree in Marine Biology in Florida.
Autumn is pictured with Westside Wisconsin Field Director Erik Sjolander, Miss Sparta co-director Bethany Nugent, and Miss Sparta 2014, Zoe Roou. Zoe will compete at the 2015 Miss Wisconsin Pageant next June.
Congratulations to our 2014 Sparta Royalty!
Miss Sparta Zoe Roou
1st Princess Alex Lira
2nd Princess/Miss Congeniality Morgan Rodgers
Jr. Miss Sparta Alexis
Princesses Nelly and Caitlyn
Little Miss Sparta Phoebe
Princesses Elizabeth and Kayli
Festmaster Doug Dengel and Lady Butterfest Marlene Martin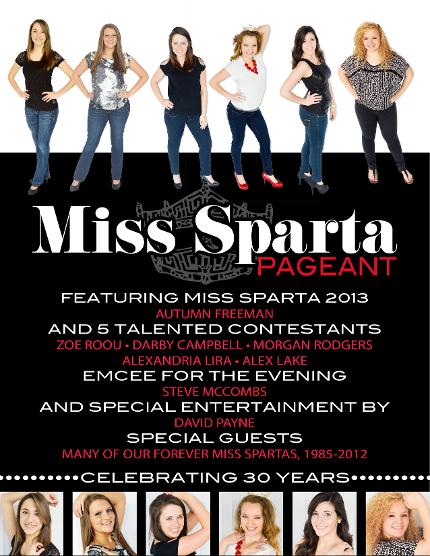 Our 2014 Pageants are THIS WEEKEND!
It is hard to believe, but our 2014 Pageants are this weekend! We have 5 contestants competing for the crown this year, including Sparta alumna Alex Lira, a 2013 graduate, 2014 graduates Zoe Roou and Morgan Rodgers, and current high school juniors Darby Campbell and Alexandrea Lake.
The show is sure to be an exciting one, with many of the "Forever Miss Spartas" planning to be in attendance, along with performances by Mr. David Payne and Miss Sparta 2013 Autumn Freeman.
The 2014 Miss Sparta Pageant begins at 7pm, Saturday, May 31st, at Sparta High School. Tickets go on sale at 6:30pm, and doors will open at 6:45pm. Tickets are $10 for adults (which includes a Sparta Butterfest button), Students/children are $4, and Program Books are available for $4. Parking is available at the west end of the high school (around the back).
Below: Contestants Zoe Roou, Darby Campbell, Morgan Rodgers, Alexandria Lira, and Alexandrea Lake.
Our Royal Family Portraits!
We'd like to give a HUGE thank you to Dammen Photography in Sparta for these lovely pictures of our 2013 Royalty. As their year wraps up, we are so grateful to have such beautiful portraits to remember such a wonderful year.
Thank you, Dammens, for your continued support of the Miss Sparta Pageant and for being Butterfest's Royal Family's official photographer.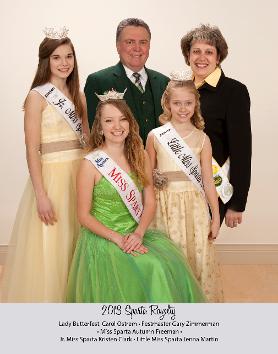 May 10, 2014 • Miss Wis Prep Day!
Autumn had an amazing trip to Oshkosh to prepare for the 2014 Miss Wisconsin Scholarship Pageant. Autumn spent the day in meetings, getting to know the other 25 contestants, fitting her production number dress, learning choreography, and of course, practicing her talent!
It was a wonderful day getting to know the other girls and we can't believe that Miss Wisconsin will be here in a little over a month! If you are interested in attending Miss Wisconsin from June 18-21, get tickets at MissWisconsin.com
We are SO EXCITED to announce our 2014 Contestants!!!!!!
With so many talented ladies, we know it is going to be a great year! We can't wait to get practices started next weekend!!!

Miss Sparta • 6 Contestants
Alexandria • Alexandrea
•

Brooke
•

Darby
•

Morgan
•

Zoe

Jr. Miss Sparta • 18 Contestants
Alexis
•

Alexis
•

Brynlee
•

Caitlyn
•

Caitlyn
•

Carys
•

Christiana
•

Elena
•

Emma
•

Jadeyn
•

Jillian
•

Kaianlin
•

Lily
•

Makaya
•

Morgann
•

Payton
•

Riley
•

Shanell


Little Miss Sparta • 16 Contestants

Bridget • Brooke • Colleen • Demeter • Dezirae • Elizabeth • Ellsey • Jalena • Kayli Ann • Lillian • Madysen • Makayla • Phoebe • Rebecca • Samantha • Victoria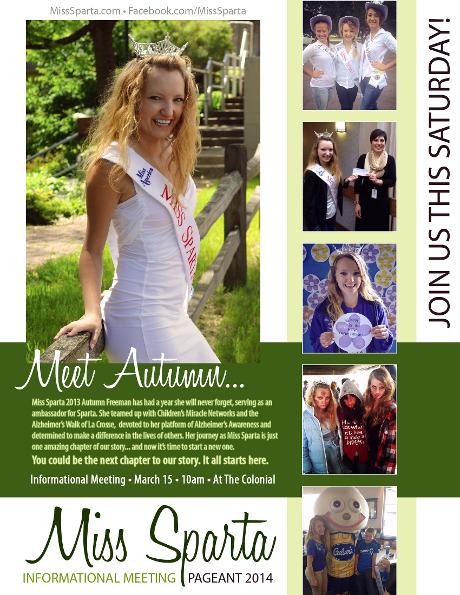 Informational Meetings are March 15th!
Our 2014 Informational Meetings are March 15th, and we can't wait!
We hope you will join us to learn just what the Little, Jr., and Miss Sparta Pageants are all about!
We are excited to meet all of this year's contestants and begin preparing for this year's pageants, which will take place on May 31st.
The Informational Meeting for Little/Jr. Miss will begin at 9am in the lower room of the Colonial Bowling and Banquet Center, just right past Lane 1.
The Informational Meeting for Miss Sparta will begin at 10am in the lower room of the Colonial Bowling and Banquet Center, just right past Lane 1.
All pageant applications will be due on March 30th. No late applications will be accepted for any reason. All contracts are due at the 1st Practice.
Click here for more information for contestants.
Congrats to Sparta's 2013 Sparta Royalty!
Miss Sparta 2013 Autumn Freeman

1st Princess Zoe Roou

2nd Princess Brooke Granahan

Also Congrats to our
Little Miss, Jenna, and princesses Morgann and Alexis,

and Jr. Miss Kristen, and princess Payton
Festmaster Gary Zimmerman

and Lady Butterfest Carol Ostrem

Butterfest President Kim Smith