Are you eligible?
a) Fill out the form below to find out!
b) If it says you're eligible, check the contract to be sure you meet all eligibility requirements!

NOTE: The form below is not the application, just a form for checking your category.
click here to apply.
Still not sure if you qualify? Check here!
Although additional eligibility rules exist with which contestants must comply, the table below is designed to assist with determining the eligibility for a contestant to compete in a Miss America's Outstanding Teen State or Local Pageant, based upon the Age/Education eligibility rules of the Miss America and Miss America's Outstanding Teen organizations:
First, you'll need your age as of this year's pageant date (check the contestant schedule)
Next, you'll need to know your grade in school for the year you will enter in the fall
Check the chart to determine eligibility.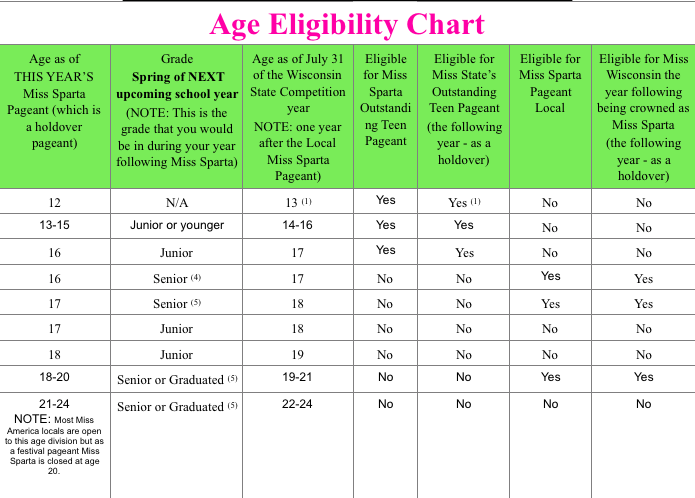 Example: I live in Sparta and am currently 16 and a junior, I enter my senior year in the fall and would be 17 by next July 31st. I would qualify for Miss Sparta based on the 4th white row.
The Miss America Organization's contestant age eligibility requirements are based on a calendar year, not a pageant cycle. In order to be eligible to compete in a local or state competition, a contestant cannot be older than twenty-four (24) years of age on December 31st the year she could be chosen to represent her state in the National Finals.
In order to meet age eligibility requirements to compete in local competitions for the State Competition (which takes place one year following the local pageant) a contestant must be at least 17 years of age and her birth year can be no earlier than the following:
To compete in Miss Sparta 2017, birth year no earlier than 1994
To compete in Miss Sparta 2018, birth year no earlier than 1995
To compete in Miss Sparta 2019, birth year no earlier than 1996
To compete in Miss Sparta 2020, birth year no earlier than 1997
To compete in Miss Sparta 2021, birth year no earlier than 1998
(1) Eligible if the contestant reaches 13 years of age by the first day of the following year's Miss Wisconsin's Outstanding Teen competition.
(2) This chart represents eligibility based on a potential contestant's Age and Education. There are other eligibility requirements and rules including: Residency, Citizenship, Other Personal Characteristics, Contractual and Other Obligations, and any special requirements of the Local or State Organization. Refer to the current MAOTeen Application and Contract for Local and State Pageants for more detailed requirements.
(3) The last day that a local Miss pageant may be conducted in the State.
(4) In this case the contestant could also be a high school graduate or have received her G.E.D.
(5) In this case the contestant must graduate from high school or receive her G.E.D. by the end of the Spring of the state competition year.